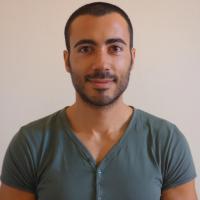 My name is Jonathan Crespo and I was born on Jan 27th, 1982. I am currently a PhD student at the Department of System Engineering and Automation in Universidad Carlos III de Madrid. I also teach problems of the subject Control Engineering I.

I studied Computer Engineering at Universidad Autónoma de Madrid. Afterwards, I started to work at a computer consultant, like a programmer, developing web applications for some years. Thereafter I got a Master Degree in Robotics and Automation by Universidad Carlos III de Madrid.

My research interests focus on cognitive robots, planners and navigation systems on mobile robots, especially semantic navigation.
All publications on
|
Plain text
Journal Publications
Conference Publications
Patents
Publication
Patent

Sistema robótico y métodos para tareas de mantenimiento en farolas y estructuras verticales de forma cónica . ref: ES-2759519_B2. . 2020,
J. Crespo, R. Barber, C. Gómez, A. C. Hernández, M. Galli, C. Castejón, J. Meneses, H. Rubio, A. Bustos, M. J. Gómez
Books
Doctoral Thesis (supervisor)
Doctoral Thesis (author)