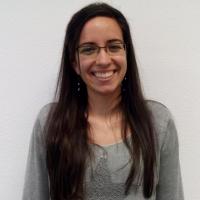 Silvia Rodríguez-Jiménez is a PhD candidate advised by Dr. Mohamed Abderrahim in the field of Computer Vision to endow a robotic hand system with advanced perception capabilities. She received her M.Sc. degree in Telecommunications Engineering in 2008 and ""Diploma de Estudios Avanzados"" (DEA) in 2010. Both degrees at the University of Oviedo (Spain) where she obtained several competitive grants to develop research activities in the Department of Electrical and Computer Engineering with the guidance of Dr. Ignacio Álvarez García, taking part in different national and european projects focused on Computer Vision, Image and Signal Processing.
From October 2010 to December 2010, she joined the Electronic Instrumentation Laboratory at TU Delft (The Netherlands) to perform a 3-month internship, working on CMOS Image Sensors with the guidance of Prof. Dr. ir. Albert J. P. Theuwissen.
From April 2011 to November 2013, she was a research assistant at the UC3M's RoboticsLab where she was working on the Computer Vision aspects of several projects: HANDLE project, PROSAVE2 and Virtual Robotics Challenge as member of SARBOT Team. Furthermore, from February 2013 to November 2013 she was teaching assistant of Industrial Automation and Control Engineering II.
In her spare time, she enjoys painting, travelling and photography.
You can find more information on her personal profile at LinkedIn.
All publications on
|
Plain text
Journal Publications
Conference Publications
Patents
Books
Doctoral Thesis (supervisor)
Doctoral Thesis (author)