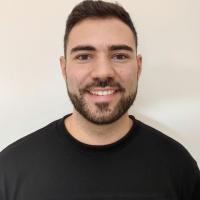 Hi everyone!
I am Alberto Méndez, I received a degree in Electronics and Automatic Engineering at School of Engineering and Technology of La Laguna(ULL) in 2021. Currently, I am studying a master in Robotics and Automation at Carlos III University (UC3M). 
Since I was a child, I was curious about any electronic device. For this reason I feel a strong motivation for research in the field of robotics.
My lines of research focus on computer vision and deep learning. I applied this knowledge in my final year project, making an autonomous waste sorting system. I currently work on the HEROITEA project, where we are developing a robot to assist elderly people in daily household activities, such as cooking. In this project, I work on the perception system for the detection and localisation of elements in the environment.
All publications on
|
Plain text
Journal Publications
Conference Publications
Patents
Books
Doctoral Thesis (supervisor)
Doctoral Thesis (author)