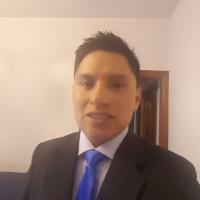 Luis Nagua Cuenca received the Bachelor Degree in Mechatronic Engineering from Universidad de las Fuerzas Armas (ESPE) in 2015, where he did the final project "Diseño y construcción de un prototipo automático para rehabilitación pasiva de lesión por esguince de tobillo". 
Since 2017, he has been a Research Assistant with the Robotics Lab. UC3M, and he received her MSc. Degree in Robotics and Automation in Carlos III University of Madrid, Spain, in 2018.
Currently, he is PhD student and her research interests include soft robotics, humanoid robotics and design of mechatronic systems.
All publications on
|
Plain text
Journal Publications
Conference Publications
Patents
Books
Doctoral Thesis (supervisor)
Doctoral Thesis (author)