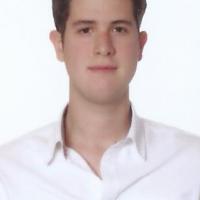 Juan José Gamboa Montero works as a researcher and teacher at the Systems Engineering and Automation Department, Carlos III University of Madrid. He received the B.Sc. in Industrial Electronics and Automation Engineering and M.Sc. in Robotics and Automation and form the Carlos III University of Madrid in 2015 and 2016, respectively. Currently, he is a Ph. D. student in the Electrical Engineering, Electronics and Automation program.

His research field is primarily related to Human-Robot Touch Interaction, but it also includes Social Robotics, Advanced Machine Learning, Signal Processing and Analysis, Robot Perception and Cognitive Robotics.

He was involved in RobAlz project, a project born from the collaboration between the Spanish Alzheimer Foundation and the RoboticsLab. The aim was to develop robots that assist in the daily tasks of caregivers to Alzheimer's sufferers.
All publications on
|
Plain text
Journal Publications
Conference Publications
Patents
Books
Doctoral Thesis (supervisor)
Doctoral Thesis (author)