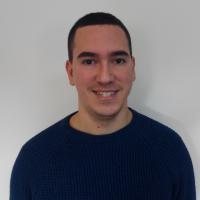 Pavel González was born in Maracay, Aragua, Venezuela. He received his degree in Electronic Engineering in 2010 at UNEFA in Venezuela, and his M.Sc. degree in Robotics and Automation in 2017 at Universidad Carlos III de Madrid in Spain. In March 2017 just started his Ph.D. research.  Has several other studies in Teaching, E-Learning, Robotics for education, Software developing, Data base administration and Big Data, from UPEL, ULA, and USB in his native country.
In 2010 received the third place and award for the best Thesis in Electronic at the IEEE Student Branch Congress in Venezuela for the developing of a mobile robot teleoperated by internet.
In past few years he worked as a software developer, and later as a team leader of a R+D project to deploy a drone for inspection in the power industry transmission area. Is an active member of the AVEROD (Venezuelan Robotics and Domotics Asociation), and collaborator of the Global Robot Expo event and HispaRob association.
Last research involve scan matching techniques, uses of LiDAR sensors and meta heuristic optimization algorithm such as Differential Evolution and Harmony Search, to achieved good 3D mapping and localization of mobile robots indoors and outdoors. 
His professional interest are in robotics, software arquitecture for robots, service robots, teaching, big data and mobile robots. 
All publications on
|
Plain text
Journal Publications
Conference Publications
Patents
Books
Doctoral Thesis (supervisor)
Doctoral Thesis (author)