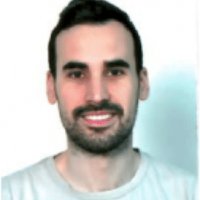 Hi!
My name is Raúl Fernández Fernández and right now I am a PhD student in robotics.
I have an engineering degree in electronics from Universidad de Oviedo.
During my time there, I met many nice people and learned quite a lot, so
I really enjoyed that time.
Right now I am working at Universidad Carlos III de Madrid (UC3M) where I am meeting many nice people and learning quite a lot, so I
am really enjoying my time here.

I am quite interested in everything related to teaching and research and my work is focused in areas like Artificial Intelligence, Cognitive Robotics, Style Transfer, Learning from Demonstration and Action Generalization.

Here is my git-hub if you are interested on my work.
https://github.com/RaulFdzbis (I dont want to do a click bait, but there is a cat in my profile photo, just saying)
All publications on
|
Plain text
Journal Publications
Conference Publications
Patents
Books
Doctoral Thesis (supervisor)
Doctoral Thesis (author)