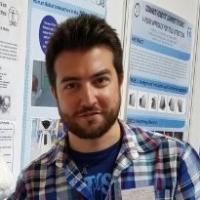 Raúl de Santos Rico received his degree in Technical Telecommunications Engineer, specialized in Telematics in 2012 at University Carlos III of Madrid.

Since he finished an internship in some companies, he has been working as a research technician in the RoboticsLab laboratory for 5 years, in charge of the humanoid robot TEO. The most important tasks he has done are the technical maintenance of the robot and the laboratory, detecting and fixing humanoid faults and software issues, solving problems, developing applications and firmwares for its components, keeping it updated, improving its behavior, writing documentation, preparing demonstrations for attend different media, events, etc...
Currently, he's actively collaborating in the Humasoft project. His tasks are the software integration of the neck in the robot, participating in the improvement of neck control algorithms, the development of applications for conducting experiments, recording, editing and publishing them, as well as the processing the results obtained. Also, he's creating the new official Humasoft website.
All publications on
|
Plain text
Journal Publications
Conference Publications
Patents
Books
Doctoral Thesis (supervisor)
Doctoral Thesis (author)