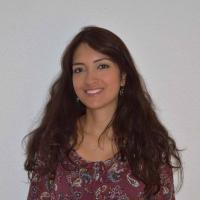 Alejandra Hernández received her Bachelor's Degree
in Systems Engineering from Antonio José de Sucre National
Experimental Polytechnic University. She got the Cum Laude mention. She studied a Diploma in Robotics in Discrete Systems, Automation
and Integration Laboratory from Los Andes University.
She received her MSc. Degree in Robotics and Automation in Carlos III University of Madrid, Spain, in 2016.
Currently, she is PhD student and her research interests include scene recognition, object detection, classification and machine learning applied to mobile
robots.
All publications on
|
Plain text
Journal Publications
Conference Publications
Patents
Publication
Patent

Sistema robótico y métodos para tareas de mantenimiento en farolas y estructuras verticales de forma cónica . ref: ES-2759519_B2. . 2020,
J. Crespo, R. Barber, C. Gómez, A. C. Hernández, M. Galli, C. Castejón, J. Meneses, H. Rubio, A. Bustos, M. J. Gómez
Books
Publication
Book

Mobile Robots chapter: Geometrical, Topological and Semantical Navigation., . INTECHOPEN, ISBN: 978-953-51-6702-0, 2018, London, UK.
R. Barber, J. Crespo, C. Gómez, A. C. Hernández, M. Galli
Doctoral Thesis (supervisor)
Doctoral Thesis (author)