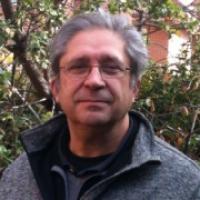 Welcome to the web page of Santiago Garrido. Within the robotics lab at the Department of System Automation Engineering, my current research interests are in the areas of mobile robotics, mobile manipulators, environment modeling, path planning, mobile robot global localization problems and SLAM. My PhD work studied the Identification, Estimation and Control of Nonlinear systems with RGO.

At the academic level, I am currently involved in teaching System Control within the Engineering degree and Intelligent Control within the Master in Robotics and Automation. 

Within the industrial aplications field, I colaborate aerospace industry through CASA.

All publications on
|
Plain text
Journal Publications
Conference Publications
Patents
Books
Doctoral Thesis (supervisor)
Doctoral Thesis (author)