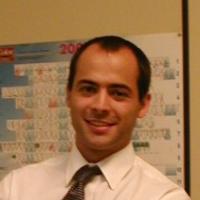 Wellcome to my webpage at the Robotic´s Lab...
I am Argentinian and I was graduated at the Universidad Nacional del Nordeste (UNNE), Argentina, as a Mechanical Engeneer (2002).
Nowadays, I am writing my PhD Thesis at the System and Automatic Engineering Department (Universidad Carlos III de Madrid). My PhD Thesis is focused on Design and Control of Underactuated Robotic Hands. Those Robotic Hands caracterises for having high dextrous and a low quantity of actuators in order to be suitable for mounting on humanoids, robots that assist disable people and as protesys.
I am the responsable of the "Robotic Hands Research Area" at the Robotic´s Lab.
My personal research areas:
Robotic Hands
Robotic Claws
Design of mechanisms applied to robotic
Mechanical optimization of robots
Special Mentions:
First place of the "Premio Pre-Ingenieria 2001" assigned by the "Centro Argentino de Ingeniero" thanks to my Final Degree Proyect named "Ensambladora Modular de Pallets" (Pallets Modular Assembler Machine) - 2002
Hope you enjoyed visiting this webpage. Don´t hesitate to contact to me for any suggest...
All publications on
|
Plain text
Journal Publications
Conference Publications
Patents
Books
Doctoral Thesis (supervisor)
Doctoral Thesis (author)