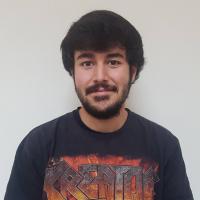 Hello everyone!
My name is Adrián Prados  and I am currently studying a Ph.D. in Electrical, Electronics and Automation Engineering. Since i was a kid I have been passionate about robotics and I have always wanted to investigate into this wide world. I received my degree in Industrial Electronics and Automation Engineering at UC3M in 2021 and my
 M.Sc. degree in Robotics and Automation 
at UC3M in 2023.  My interests include path planning, mapping , navigation with mobile robots, manipulation (which was the subject of my final degree project), reinforcement learning and imitation learning (the subject of my final master project). Right now I am working in the HEROITEA project, where we are developing a robot to help elder people in diferent every day actions like could be cook. 
Since 2023, I am pursuing my PhD studies. The main topic of my research focuses on the application of Imitation Learning (also known as Learning from Demonstration) techniques to manipulation tasks. The idea is to facilitate the use of robots by people with no prior knowledge, allowing them to teach the robot how they want a task to be done in different environments and constraints.
All publications on
|
Plain text
Journal Publications
Conference Publications
Patents
Books
Doctoral Thesis (supervisor)
Doctoral Thesis (author)