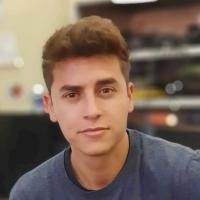 Robotics and Automation Engineering Master's
focused on the hardware and software integration. Both low-level (PLC and
Scripts) and high-level (Python and C++) programming skills. Design and
development of prototypes (3D design, PCB design, power electronics,
instrumentation, signal filtering and control implementation). Teamwork spirit
and positive energy for brightening the future.
All publications on
|
Plain text
Journal Publications
Conference Publications
Patents
Books
Doctoral Thesis (supervisor)
Doctoral Thesis (author)