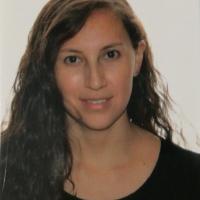 Lisbeth Mena obtained her Bachelor Electronics Engineering from Universidad Politécnica Salesiana in Quito, Ecuador (2012).
In 2015 received her MSc. Degree in Automation and Robotics from Universidad Politécnica de Madrid, Spain.
She was involved in  the TIRAMISU european project working with a hexapod robot for demining tasks as research stay in CAR-CSIC, during one year.
Lisbeth worked at Escuela Superior Politécnica del Litoral (ESPOL) in Guayaquil, Ecuador as a full time professor since 2016 until 2018.
She has been involved at the Universidad Carlos III de Madrid since 2018 in the HUMASOFT project as research technical. Currently, she is a PhD candidate at RoboticsLab, her research focuses on modular and soft links.
All publications on
|
Plain text
Journal Publications
Conference Publications
Patents
Books
Doctoral Thesis (supervisor)
Doctoral Thesis (author)