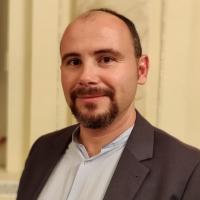 José Carlos Castillo holds a M.Sc. degree in Advanced Computer Technologies (2008) and a Ph.D. degree in Computer Science (2012) from the University of Castilla-La Mancha, Spain.
From 2006 to 2012 he worked at the natural and artificial Interaction Systems (n&aIS) group at the Albacete Research Institute of Informatics, Spain focusing on computer vision techiques for the detection of human activities and frameworks for intelligent monitoring and activity interpretation.
From October, 2012 to September 2013 he worked as a post-doctoral researcher at the institute for Systems and Robotics (ISR), Instituto Superior Técnico (IST) of the Tecnical University of Lisbon (UTL), where he is focused on networked robot systems, robotics and computer vision and intelligent control systems.
From September 2013 up to now he is working as Assistant Professor fellow at the RoboticsLab of the Universidad Carlos III de Madrid, where he is teaching and researching on social robotics and computer visión techniques for Human-Robot Interaction.
All publications on
|
Plain text
Journal Publications
Conference Publications
Patents
Books
Doctoral Thesis (supervisor)
Doctoral Thesis (author)