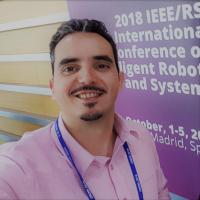 Alberto Jardón Huete (IEEE M'07-SM'13) Associate professor and Senior Researcher in the Department of Systems Engineering and Automation and Director of the Assistive Robotics Laboratory at the PCT-UC3M. He has recognised experience in the design and development of service robots and support systems. He has made a highly prolific scientific contribution, author of more than 30 invited papers, as well as 12 book chapters, with many quotations. Inventor of 9 patents (two of them in use). 
He has participated in more than 90 projects, 30 of them being IP in the EU project on Algebraic Machine Learning ALMA H2020-EIC-FETPROACT-2019 and collaborating in another 9 EU projects. He is currently the project leader of "ROBOASSET: Intelligent robotic systems for assessment and rehabilitation in upper limb therapies", funded by AEI/10.13039/501100011033, and directs the Strategic Line of Research in Robots and Assistance Systems of the RoboticsLab group, leading the development of the Serious Games and Virtual Reality Programme for Rehabilitation and Diagnosis for the ASEPEYO Hospitals. He is a member of
CEA-IFAC and of the IEEE Systems, Man, and Cybernetics Society and Robotics and Automation Society, both as Senior Member of the IEEE since 06/2013. Associate Professor since 07/2018, he has two recognised six-year periods of research and the third is active.
# Publications

·       

·       
ORCID iD

·       

Publons WOS Clarivate (old ResearcherID )
·       

# Social Media
·        Alberto Jardón Huete's profile on LinkedIn
·        Twitter
·       

Laboratorio de Robótica
Asistencial Youtube
# Open Source
·       
GitHub

·        Gitbook

All publications on
|
Plain text
Journal Publications
Conference Publications
Patents
Books
Doctoral Thesis (supervisor)
Doctoral Thesis (author)