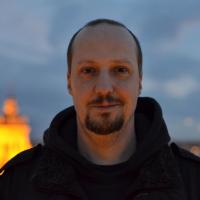 Hanno Hildmann received an M.Sc in Artificial Intelligence with a specialization in Cognitive Psychology from the University of Amsterdam where he also completed the curriculum for an M.Sc. in Logic as well as for an M.Sc. in Computing Science. He received his Ph.D. from the University of the West of Scotland for his formalization of human and AI behaviour in interactions. In the last 20 years he was involved in teaching / research at Universities in Holland, Italy, Germany, England, Scotland, The United Arab Emirates and Spain and has worked for the German Research Center for Artificial Intelligence (DFKI), The British Telecom - Etisalat Innovation Center (EBTIC) and NEC Research Labs Europe (NLE).

His work is interdisciplinary and he enjoys collaborating with his peers, his work on nature-inspired optimization, on formal methods and on distributed artificial intelligence is the subject of a number of (pending) patent applications and dozens of publications. His work has been applied to the areas of Smart Grid, Wireless Access Networks, Smart Swarms and Mobile Sensing Platforms. As of 2016 he is teaching as a visiting professor at UC3M where he is affiliated with the Robotics Lab.

Hanno has had the privilege to work with / learn from experts in a variety of fields and is indebted to those around him who have inspired him to do the work he has done. He loves reading, good food, hiking, diving and jumping out of perfectly good airplanes.
All publications on
|
Plain text
Journal Publications
Conference Publications
Patents
Books
Doctoral Thesis (supervisor)
Doctoral Thesis (author)