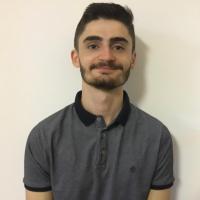 Hello World!
My name is Hugo Alonso, I've finished my thesis of Bachelor in Industrial Technologies Engineering at Carlos III University of Madrid, focused 
in development of video games to control them through a EMG Sensor.
Now I continue working in Robotics Lab developing Serious Games, to help in rehabilitation of patients affected by nervous system and limbs loss, using optical hand tracking and Virtual Reality immersion, into a collaborative project with a hospital.
All publications on
|
Plain text
Journal Publications
Conference Publications
Patents
Books
Doctoral Thesis (supervisor)
Doctoral Thesis (author)