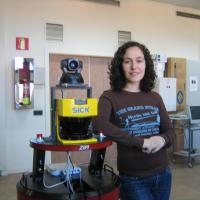 Welcome to Elena?s personal web page!

Elena is an Industrial Engineer in Electronics and Automatics, and a graduate of Carlos III University of Madrid in 2006.

Elena collaborated as a researcher during 3 years in the development of mobile and personal robots in the Systems Engineering and Automatics Department of Carlos III University and has a broad experience in visual recognition algorithms and control architectures for autonomous mobile robots.

Elena joined Indra in January 2007 and currently works for Industrial Cooperation Programs in Robotics Systems for Defence and Security Applications, and UAV programs.

Elena has been participating in the RoboticsLab as an external collaborator since she left the department and keeps a close relationship with the robotics research group.


All publications on
|
Plain text
Journal Publications
Conference Publications
Patents
Books
Doctoral Thesis (supervisor)
Doctoral Thesis (author)