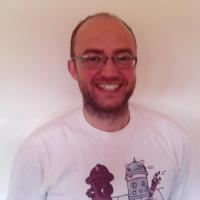 Hi all!
Welcome to my web site where you can find a short bio and my professional details.
Everything started in León on Jun 13th, 1982, in a sunny Sunday, during the inaugural ceremony of 1982 FIFA Football World Cup. The rest of the story comes next.
Grade

I studied Computer Engineering at University of León (2000-2005). Last year of my higher degree, I obtained an Erasmus grant for studying at Engineer School of Copenhagen, Denmark. Back at my home university, I realized my final degree project about robot navigation and I discovered the amazing world of robots.
Master

On September 2008, I got my Master Degree in Robotics and Automation from Carlos III University of Madrid. My final project was titled "From teleoperation to tactil control on social robots".
PhD

My doctoral thesis was defended on the 4th of December, 2012. It is titled Bio-inspired Decision Making System for an Autonomous Social Robot. The role of fear. My supervisors were Prof. Miguel Ángel Salichs and PhD. María Malfaz. I got the maximum mark Cum Lauden
Positions

In 2005, I started to work at Indra, the premier Information Technology company in Spain and a leading IT multinational. One a half years later, I got a grant from Spanish government to do my PhD Degree at Department of Systems Engineering and Automation of the Carlos III University of Madrid
In February 2009, I started to work as Teaching Assistant and, since 2013, I am an Assistant Professor. During these years, I've been involved on several courses, such as Computing Systems, Real Time Systems, Intelligent Control, Production Systems and Manufacturing, Integrated Manufacturing Systems, Industrial Automation, or Home and Building Automation.
Visiting Researcher
In 2009 I spent 3 months in the Intelligent Robotics and Communication Laboratories, Japan, collaborating with Takayuki Kanda and Mashahiro Shiomi. We researched on the prediction of the trajectories of people while crossing each other for its application to social robots. This work was published in IROS 2010.
Next year my destination was the Adaptive Systems Research Group in the School of Computer Science, University of Hertfordshire, where I stayed for 4 months. My advisors during my stay were Farshid Amirabdolahian and Daniel Polani. We researched on robot's behavior adaptation to user's preferences and the results were published in IEEE-ROBIO 2011.
In 2013 I visited the Social Robotics Lab at Yale University, USA, during 4 months. In this period, I collaborated with Prof. Brian Scassellati and we investigated on the effects of form and motion on judgments of social robots' animacy, likability, trustworthiness and unpleasantness. The results were published on the International Journal of Human-Computer Studies.
Research Interest
My research fields are social robotics, human-robot interaction, decision making systems, emotions and motivations on robots, robot expressiveness, and other related issues.
Currently I'm mainly involved in two main projects:
RobAlz is a project born from the collaboration between the Spanish Alzheimer Foundation and the RoboticsLab. The aim is to develop robots that assist in the daily tasks of caregiver to the Alzheimer's sufferers.
MOnarCH (Multi-Robot Cognitive Systems Operating in Hospitals) is a European Union FP7 project that aims the development of a network of heterogeneous robots and sensors, in the pediatric area of an oncological hospital.
All publications on
|
Plain text
Journal Publications
Conference Publications
Patents
Books
Doctoral Thesis (supervisor)
Doctoral Thesis (author)