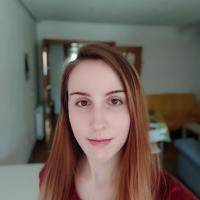 Ana Casanova Jaquete received the B.S. degree in Electronical Engineering and Automation with intensification in Robotics from University of Oviedo, Asturias, Spain, in July 2017.
She started working in Adele Robots, a social robotics start-up based in Asturias, where she worked as code developer in different social and collaborative robotics projects, being the most significant the configuration and programming of an asturian cider pourer robot in collaboration with Canonical Robots. 
In October 2018 she started her MSc in Robotics and Automation from University Carlos III of Madrid (UC3M), while working as a maintainer and software programmer of Elfin Collaborative Robots.
In April 2019 she started working as a research assistant for ROBOESPAS project in RoboticsLab, where she coordinates different parts of the project and specifically the control and programming of the IIWA robot. 
All publications on
|
Plain text
Journal Publications
Conference Publications
Patents
Books
Doctoral Thesis (supervisor)
Doctoral Thesis (author)