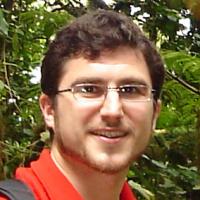 Hi!

This is Antonio, I am an Electronic and Computer Science engineer (2004, Carlos III University of Madrid) and also I participate in the Robotics Lab as an external collaborator. My subjects are Robots Control and Programming, Real Time Systems, Automation and Industrial Automation.

Currently, I am working for INDRA (www.indra.es) as system engineer. Nowadays, I work with the UAS (Unmanned Aerial Systems) / ISTAR (Intelligence, Surveillance, Target Acquisition, and Reconnaissance) department. My main assignment is the development of systems which control onboard sensors, and the visualization and exploitation of their acquired data.

Please, do not hesitate in contact me!

See you!
All publications on
|
Plain text
Journal Publications
Conference Publications
Patents
Books
Doctoral Thesis (supervisor)
Doctoral Thesis (author)